The streaming-focused social network has broken records in the last year. We are going to know the reasons for its success, how it works, and some tricks to take advantage of it.
The Twitch platform is in fashion , undoubtedly on its own merits but also because of controversies that have to do with issues such as leaks to Andorra or censorship.
Confinement has made many young people stay at home, and among the activities that have emerged the most are multiplayer games. This has led many people to discover Twitch video game streams, and to share their own live streams. Although it must be made clear that on Twitch you can find all kinds of topics beyond gaming.
Let's see what Twitch is, how it works, and some tricks to take advantage of its advantages.
Although it has taken years to get off the ground, Amazon's social network has already become the streaming platform of reference, leaving services such as Microsoft's Mixer, and even YouTube, by the wayside. These are its secrets.
Table of Contents
What is Twitch?
Twitch is a streaming video social network. That is, you cannot record videos, edit them, and then upload them to Twitch, as is done on YouTube. All the videos on Twitch are recorded live, although they can be recorded for up to two months, depending on whether you are a Twitch affiliate or partner, as we are going to see. But they are not saved permanently as in YouTube and the like, with few exceptions.
If your live shows like, you will gain followers and viewers, and then options will open to earn money online through advertising, sponsors, donations, subscriptions, commissions for game sales, etc.
Of course, no direct uploads are required to use Twitch. You can also enter as a spectator to see the transmissions of the most famous streamers, such as Oablock, Ibai, etc. You can follow the ones you like the most, and even become a subscriber to your favorite channels by paying a monthly fee, to obtain certain privileges.
Also, Twitch is a platform where you can buy games. If you are from Amazon Prime, it is possible to activate Twitch Prime to get free games every month, add-ons for multiplayer games, etc.
You can now try Amazon Prime Video for free for a month and with no commitment to stay. On this platform you can watch series like American Gods, Hanna and Jack Ryan, as well as hundreds of exclusive movies.
Its origin
The origin of Twitch dates back to 2007, when Justin Kan and Emmet Shear launched a streaming service called Justin.tv. It was dedicated to different topics but the most successful category by far was video games, so in 2011 they decided to open a new platform dedicated to eSports or electronic sports, which they called Twitch.tv .
In its early years, Twitch focused on video game tournaments, broadcasting live the most important international game events such as Starcraft II, DotA, League of Legends, etc.
But like all Internet services that have some success, it soon attracted the eyes of the true owners of the Internet, willing to buy everything that overshadows them, or that allows them to enter new markets effortlessly, by pulling their checkbook.
At the beginning of 2014, according to Forbes Google reached a preliminary agreement to buy Twitch, but in the end it abandoned the idea because the antitrust agency would have denied the purchase, also owning YouTube.
On August 25, 2014, Amazon announced the purchase of Twitch for 970 million dollars, with the intention of turning it into a global streaming service, which is not only dedicated to video games.
Taking advantage of Amazon's cloud, one of the largest and most powerful, Twitch streaming gained in quality and storage capacity. With its contacts, Amazon attracted sponsors and streamers outside of video games , from influencers to musicians or simply direct to chat, but gaming is still the main use of the platform.
The numbers
As we have mentioned, Twitch has grown quite a bit in the last year, and the current data figures are really good.
The platform has 2.5 million simultaneous users at all times , with 7 million users conducting direct at least once a month, and more than 30 million unique visitors a day.
More than 1,800 people work on the development of the platform, and in 2020 alone, more than a billion minutes of video were viewed.
What can be found on Twitch?
As we have mentioned, the most successful channels on the platform, and the most visited, are dedicated to video games: gameplay, live games, tournaments, speedruns (attempts to finish games as quickly as possible), tricks, tips, lessons to learn to play, etc.
Amazon has been trying to diversify the platform for a long time, but it is struggling. Other popular categories are Music, Talk, Sports, Travel, Food and Drink, and Special Events.
Additionally, Twich occasionally airs entire television shows for a limited time, such as the classic Doctor Who series, Power Rangers, or all 16 Pokémon movies.
Do you really make money streaming on twitch?
As with similar social networks such as YouTube, Instagram, etc., money can be made on Twitch, but 1% of streamers take 90% of the profits.
In other words, the best streamers make a lot of money, but they are a small group. You have to work a lot and very hard to gain the followers and the minutes necessary to be able to access Twitch's partner and affiliate programs, which are what allow you to earn money, as we are going to see. Unless you fall in grace and like it the first time…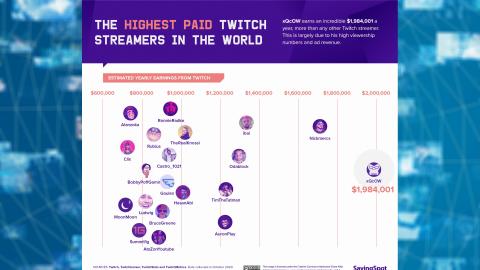 That said, it must be recognized that Spain is a superpower on Twitch, as three Spanish streamers are in the Top 10 of those who earn the most: Ibai, AuronPlay and elRubius.
As we see, Ibai is in third position, with almost 1.5 million dollars of profit per year . AuronPlay, fifth, remains at $ 1.2 million, and Rubius is close to $ 800,000.
Precisely when these figures were published, the controversy arose about the march of El Rubius to Andorra to avoid paying taxes in Spain. AuronPlay lives in the United States. Only iBai lives and is taxed in our country.
In what formats twitch is it available?
This platform can be used in any browser from its website . There is also an app for iOS and Android, as well as an application for Windows and Mac. You can download all of them from this link.
In addition, Twitch is integrated in Fire TV, Chromecast and Apple TV devices, and in the PS4 and PS5 consoles, Xbox One, Xbox One Series X and S, and NVIDIA Shield. From these consoles you can stream video to your Twitch account.
It is also possible to use it within many PC gaming platforms such as Origin, UPlay, Steam, Minecraft, etc.
Sign up for Twitch
Creating an account on Twitch is very easy, and free. You just have to access their website or install one of the apps that we have mentioned.
Tap on the Register button, and you will access the form where you only have to put your username, password, age and email:
With this account you can both direct and use it as a spectator to save the list of favorite channels, subscribe or donate and buy Bits and other options.
Twitch Prime
If you have an Amazon account then you can convert your Twitch account to Twitch Prime, which gives you a number of privileges. It's what Amazon now calls Prime Gaming.
Just tap on Login on the Prime Gaming website and log in with your Amazon Prime account. If you have a separate Twitch account you can link the two here, or create one from scratch.
With Twitch Prime (now Prime Gaming ) every month you get 3 or 4 free PC games that you keep forever, even if you stop being Amazon Prime. Plus, you get all kinds of add-ons for dozens of multiplayer games, from CoD to League of Legends, Roblox, Apex Legends, Destiny 2, and dozens more. Weapons, costumes, unique items, and much more.
You can also get them with the free trial month of Amazon Prime, and you keep it forever when that month is over.
These games are downloaded from the Twitch application for PC, which offers a menu similar to Steam.
To get them you simply have to touch the Crown-shaped icon of the application. Here you will see all the gifts. Tap on Claim , and the following will be added to your Twitch Games Library (Games):
If they are add-ons for multiplayer games, you usually get a code to enter the game and obtain the object, or by linking your Steam account.
In just over a year they have given away more than 100 high-quality games, including titles such as the Darksiders saga, Broken Age, Enter de Gungeon, Hyper Light Drifter, Pillars of Eternity, SuperHot, Tales from the Borderlands, The Walking Dead , and numerous Neo Geo console classics.
With a Twitch Prime account you also have other privileges, such as subscribing to a free channel.
Using Twitch as a spectator
Most people use Twitch to watch streams, that is, live videos. It can be used without creating an account, but you will not be able to save your favorite channels or take advantage of most of its functions. That is why it is convenient to create a free account as we have explained in the previous step.
Log in to the Twitch website, or to the desktop or mobile app. They are all quite similar.
The main screen has three important areas, which we have delimited with a box:
In the upper right corner (1) there is the Crown to claim the prizes, the notifications icon, the Whispers, to send private messages to other users, and your profile.
In the top bar (2) are the options to see the channels you follow, explore new channels, access channels related to Esports, and categories such as Music or Mods (Mods). In Games is your collection of games.
In the left column (3) the channels you are following are shown, to have them at hand and, if they fit, the direct ones that are being broadcast at the moment.
Customize your profile on twitch
If you tap on the icon in the upper right corner, you will access the Profile. Here you can indicate whether or not you are connected, in case you want to be connected but without others seeing it.
From the profile it is possible to see your list of friends, the subscriptions you are paying, your portfolio, the language, and tools for creators that we will see later.
In your Profile Settings, there are many options:
In General we choose how we want Twitch to be minimized, or if we want it to start when we turn on the computer.
In Profile we customize our appearance and that of the channel, with additional options if we are from Prime Gaming.
In Canal y Videos we manage the rules of our channel, and the videos that we have uploaded. Security and Privacy allows us to choose who can send us gifts and whispers, or how visible we want to be. Here we can also change the email and password.
Finally, in Notifications, we select the type of notifications that we want to receive: if a channel that we follow opens live, notices of tournaments, etc.
Find creators, videos and friends
Once we have the profile ready, it is time to search for content.
We can use the categories on the top bar, or better yet, the search engine, also up there. Just type in a friend's username to add them to your friends list. Write a game, musician or similar to follow, or search channels by typing keywords.
What can you do live
In the central part is the video. If it is live, a red icon will appear indicating it. In the channels there are old live shows, but they are only kept for two months, except for certain very prominent videos.
If you touch the image you can change its quality, see it in full screen, or in theater mode, with a black background.
On the right we have the chat to comment on the video with the creator himself, and with other viewers who are watching it at the time.
At the bottom of the video you have the option to follow the channel, to receive notifications when there are live streams, and put it in your list of favorite channels. Another option is to subscribe by paying a monthly fee to obtain certain privileges, as well as donate bits, and other options, which we will see below.
Finally, we can share the video with friends or report it, if we see something that seems illegal or goes against the rules of Twitch, such as racist insults, discrimination, etc.
Twitch Predict
Twitch recently released an in-video game called Predict. It is basically a gambling game. The streamer proposes a challenge, such as being in the top 5 in a Fortnite game or eating a whole pizza in 5 minutes, and the followers vote whether or not he succeeds. If they win, they take points that when accumulated can be exchanged for channel prizes, from emoticons to subscriptions.
Subscriptions
When a creator becomes an Affiliate (see below) he can add the Subscriptions to his channel.
It consists of a monthly fee, normally 4.99 euros per month, which gives you access to certain privileges within the channel. Subscribers have access to a subscriber-only chat, exclusive directives just for them, custom emoticons, emblems, giveaways, etc.
If you are on Twitch Prime, you have a free subscription that you can use with whoever you want. Keep in mind that each channel has its own subscription.
Bits and Cheers
The Bits are the currency of Twitch. It is a way to make donations to your favorite creators.
Bits are purchased with real money. You can pay with PayPal or your Amazon account. They are bought from the main window of the app, from your profile, the option is in several places.
100 Bits cost 1.53 euros, and there are discounts with large purchases.
When you see something you like in a video, you can give it a Cheer, which is a donation with Bits. You write Cheer and the number of Bits you want to donate to them, in the chat. You can also associate a Cheer with a Cheermote, which is a special animated icon that will appear when you donate.
The creator will receive 1 euro cent for every Bit you send him.
By giving Cheers you can receive emblems, appear in the list of the most generous in the channel's ranking, and other prizes.
Twitch Turbo
You will soon realize that the broadcasts have quite a few advertisements. There is a payment option to remove them, called Twitch Turbo.
It costs 8.99 euros per month and in addition to eliminating most of the ads it offers other advantages such as extended emoticons, chat emblems, and it also saves your videos for 60 days, instead of the usual 14 days.
Using Twitch as a streamer
Have you been encouraged to upload your live streams to Twitch? It will not be easy to gain followers because there is a lot of competition, but if you are good, have charisma and are original, you may be able to make a hole for yourself.
The first thing you need is obviously a webcam. Anyone is fine, but you must have a quality video so that your followers see you decently, not a blur.
If you are going to stream games you will need software that captures the screen. Luckily all consoles already do. In the case of the PC, we will use special software.
But if you are only going to chat or other activity, a camera and a microphone is enough.
The streaming software
As we have commented on Twitch, you cannot record video and edit it, to broadcast it delayed. It only works with live, real-time camera broadcasts, so you need streaming software that captures what the camera records and sends it to Twitch live.
Twitch has its own streaming software called Twich Studio, which you can download here. But it's still a bit green, so many streamers use OBS Studio, and some other that Twitch offers on their website:
This software allows you to define parameters such as the size of your image inside the screen (PiP) if you are transmitting gameplay of a video game, add frames and decorations, and other options to customize the transmission.
When you hit the cast button, it sends both the screenshot from the computer and what the webcam (usually your face) recorded to Twitch.
Creator Profile
There are specific options for creators in the Twitch Profile. They are Channel, Video Studio, and Creator Control Panel. The first two are also within the Creator Panel:
First you have to decorate your channel with the Settings option . Here you enter Channel and create your emblem, profile photo, a description of the channel, etc.
The Moderation section is important, because here you define rules that you want to be followed, for example, do not swear, do not see adult content and ads on the channel, etc. You can also let the Twitch AI do the moderation.
You can also install the streaming software, and extensions that help you with some tasks.
You must define the rewards to the spectator, the so-called Drops. They are promotions of the main games that randomly give away content on the channels, and you decide which one you want to include.
When you have followers in the Creator Panel you will be able to see the list, statistics, and other data.
To transmit you must enter the Transmission Manager. Here you will see what the viewers see, so you know that everything is correct, the chat to communicate with your followers, and the buttons to start a broadcast.
During the transmission you will see real-time data such as viewers, video bitrate, etc.
Affiliate Program
If you manage to accumulate 50 followers and in the last 30 days you have transmitted at least 500 minutes in 7 different days, with an average of 3 or more viewers, you will be qualified to enter the affiliate program .
This will allow you to add subscriptions of 4.99, 9.99 or 24.99 euros per month in your channel, so that your followers sign up. You can also receive Bits, and game sales commissions during advertising.
Partner Program
The highest level is becoming a Twitch Partner.
To do this, you must broadcast at least 25 hours a month, for 12 different days and with an average of 75 viewers.
Partners have the benefits of affiliates, and other exclusives such as more image quality in the transmissions, the possibility of applying delay to the transmission, 60 days of video storage, priority technical assistance, more channel customization, etc.
Game sales commissions
In many broadcasts, banners are displayed for the sale of the game that is being played. For each purchase of the game that a spectator makes through the banner, the creator takes a commission of 5% .
Tricks to gain followers on Twitch
The hardest thing about being a streamer is gaining followers, especially in the beginning. Follow these tips to make it easier:
Define yourself as a streamer: Don't broadcast like crazy. Decide first if you want to focus on a single game or theme or be more generic, and go along that line.
Type of content: Are you going to do gameplay, tricks, lessons, only competitive? Decide it based on your strengths, and focus only on that. If you want to cover too much you will disperse your followers.
To give the callus: Meditate how many days a week you can transmit, and do not miss one. Followers like consistency.
Interact with your fans: Talk a lot in chat and reply to messages. It's hard work, but people appreciate close contact.
Hold giveaways often– that attracts a lot of people
Use all social networks: Don't just focus on Twitch. Advertise your broadcasts on Twitter and Facebook, and also broadcast on YouTube and the like.
Do not respond to attacks: Trolls or haters are not worth fighting for. You will come out badly. If you have to kick them off your channel, do it.
You already know everything you need to get famous on Twitch!
Or, more realistically, to enjoy the broadcasts broadcast by the best creators. Have fun and don't take it too seriously!